Skyfavor sleep monitor device is a new intelligent diagnosis system applied for the suffers with such diseases as sleep disorders, sleep apnea, OSAHS, COPD, ARDS and vascular diseases, suitable for clinic/hospital/sleep centre/homecare use to study and screening of Sleep Apnea Syndrome (SAS).
Innovative integrated 3D sensor, only need SpO2 sensor to get the most comfortable sleep diagnosis.
Patients can be tested at home, which in a confortable conditions without an observer and with fewer sensors attached to their body. This reduces anxiety, leads to a more natural night of sleep and improves patient acceptance of test protocol.
The sleep monitor device meets all American Academy of Sleep Medicine (AASM) requirement.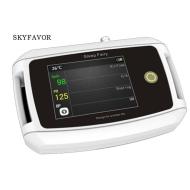 Min. Order: 1 piece
Smart, light and convenient.
Extremely easy to operate with one switch.
Advanced high precision 3D gyroscope technology.

Address:

Yuelu District High-tech Park, Changsha, Hunan, China